Bring Family Back to the Dinner Table With Booker's Soul Food Starters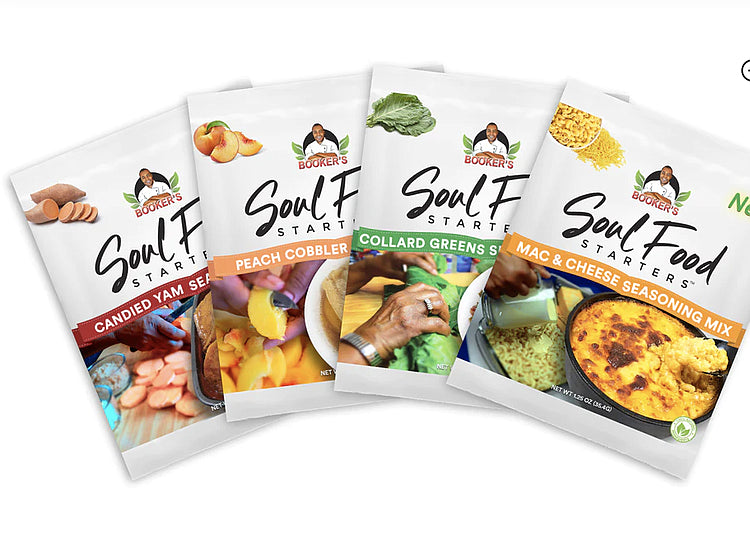 Chef Booker gets mealtime started with soul food shortcuts so good, Soul Food Sunday will be back in no time
Nobody knows good soul food like Chef Claude Booker – well, except some of our grandmas. But in today's world, not everyone has the time to put love into a good homecooked meal. You know, the kind of comforting soul food that gets each member of the family excited to sit down for supper. That's why husband-and-wife team Claude and Crystal Booker decided to transform their cherished family recipes into pantry-ready starter kits that make it easy to bring together the heart and soul of every family through food.
"With years of culinary training, a proud southern lineage, and a little Black girl magic, we were able to package what makes soul food so special. It's not just about a luscious mac and cheese dish, perfectly seasoned collard greens or a bubbling peach cobbler that's fresh out of the oven, but also about preserving Black culinary traditions and supporting Black women and families to celebrate one another. Our meals come together quickly – inspiring our customers do to more of what they love while still having time for family dinner," said Claude Booker.
Booker's Soul Food Starters are pre-portioned spice mixtures that take the guesswork out of how much salt, sugar and time to put into classic soul food sides: mac and cheese, collard greens, candied yams and peach cobbler filling. Customers can keep their favorite mixtures on hand and just shop for fresh goods (collards, peaches, yams and cheese) when they're ready for a memorable meal.
Chef Booker, a classically trained chef in culinary arts, food service management and a Master of Science in managerial technology, grew up in rural South Carolina. Today, he integrates his upbringing of preparing meals from his grandmother's four-acre garden and neighbor's livestock into his "country to the core" cooking philosophy. The Bookers have made it their mission to preserve Black culinary history and family time through their mealtime shortcuts. Through the Booker's Soul Food Education Fund, every time a starter packet is purchased, it helps support education and programs for Black youth … because celebrating soul food is about the soul, heart and minds of past, present and future generations.
Find Booker's Soul Food Starters at your favorite local grocers, including Winn Dixie, Kroger, Stop & Shop, Food Lion and more. The meal starters are also available online.
To learn more about Booker's Soul Food Starters, visit the family-owned business at SoulFoodStarters.com. Collection 2019 Sale 70% Off Title for image