Chef Claude Booker of Soul Food Starters On 5 Things You Need To Create a Successful Food or Beverage Brand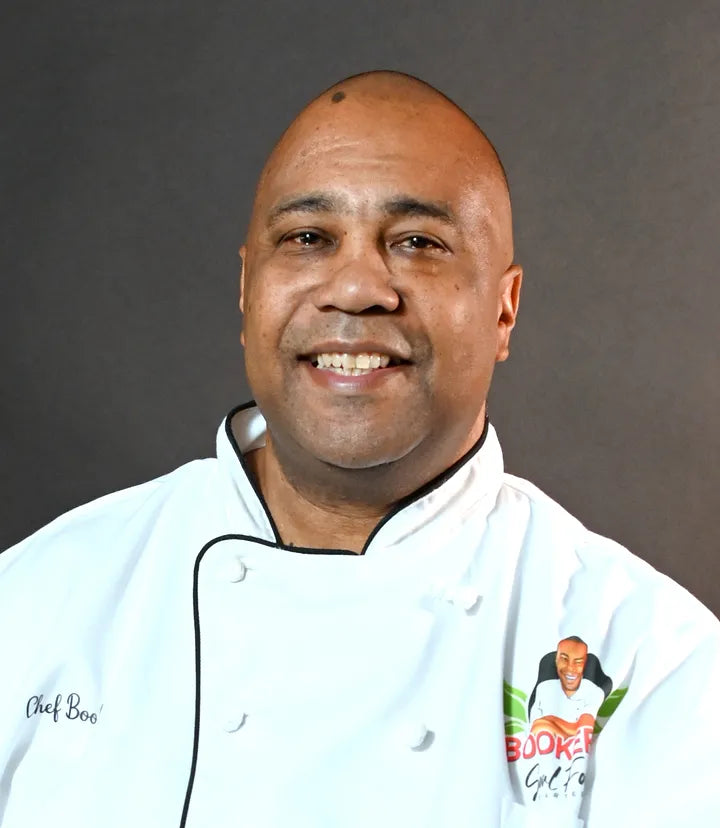 As a part of our series called "5 Things You Need To Create a Successful Food or Beverage Brand", I had the pleasure of interviewing Claude Booker.
Meet culinary expert and business leader Claude Booker, the CEO and founder of Booker's Soul Food Starters which are now available in over 1,000 grocery stores across the country. His business providing Southern side dishes for buffets was decimated as a direct result of the pandemic, and most buffets remain closed.
He pivoted his business during the pandemic and went from ideation to grocery store shelves with Booker's Soul Food Starters in nine months. He did not shy away from his commitments to building a supply chain filled with domestic Black-owned businesses. The partnership with other Black businesses encourages more opportunities for those businesses and allows them to employ other Black Americans.
Thank you so much for doing this with us! Before we dive in, our readers would love to learn a bit more about you. Can you tell us a bit about your "childhood backstory"?
Igrew up in rural South Carolina in Spartanburg County. I was blessed to learn how to farm, fish, hunt and care for Mother nature. I always had a love for cooking and my father introduced me to the world of culinary arts. My father was a great cook. He would allow me to stand on a wooden step stool and watch him in the kitchen. I was hooked right away. I was a standout football player and it was expected for me to go to college and play. I was offered football scholarships but I chose culinary school instead. I would attend Johnson & Wales where I would obtain a degree in Culinary Arts degree and other degrees followed. It was the best decision other than marrying my wife and business partner Crystal I ever made.
Can you share with us the story of the "ah ha" moment that led to the creation of the food or beverage brand you are leading?
It was March of 2020 at the start of Covid 19 and my purchase orders for my Southern Style food service items for buffets stopped coming in. I had no idea that all of the customers would be shutting down. Our business was food service steam table customers and buffet operations. Covid concerns brought our business operation to an immediate halt. I had to immediately pivot and the idea to create pantry ready mixes came to me to help folks cook soul food in their homes.
The trend for supporting Black Founder brands was front and center post the George Floyd tragedy. Pantry ready items were hot and we married the two and created Booker's Soul Food Starters.
Can you share a story about the funniest mistake you made when you were first starting? Can you tell us what lesson you learned from that?
I wanted to try and get a head start introducing the brand and concept early even though the product was 4–5 months from being ready. I did not have a product except for 1 prototype of a bag each of the 4 items. These bags were filled with air when I would present them. It cost $250 each to have a mock up made. I was doing a presentation on the ECRM platform called Efficient Supplier Introductions to a group of 20 buyers all at one time. ECRM explained if there was interest each retailer would reach out to me individually. We received sample requests from 10 of the participants. I was so embarrassed to explain that the product was not yet commercially developed. I lost a little credibility. The lesson learned was it is always best to wait until you are ready.
What are the most common mistakes you have seen people make when they start a food or beverage line? What can be done to avoid those errors?
There are two common mistakes I see folks making at the start and it is all relative to their product cost. First would be not properly pricing their products correctly. The main mistake is typically the pricing is too low versus too high. The second is understanding the difference in markup vs. margin. Focus on margin and a good rule of thumb is to work at a 50 percent margin. Understand all the costs associated with bringing the product to market whether DTC or B2B is critically important.
Let's imagine that someone reading this interview has an idea for a product that they would like to produce. What are the first few steps that you would recommend that they take?
Complete this statement to yourself. "My Product is the only Blank that does or has Blank ''. Is your product disruptive in some way to the category? This is great if it is. Remember grocery store shelves are fully planned out and for your product to get placement another product gets removed. Identify if you have a Me Too Product. There is nothing wrong with having a Mee Too Product if it has some advantages. Make sure to identify those advantages. Focus on selling online to get started. Do not engage with a co-packer until you have some traction. I believe the copacker relationship is so important and you want to make a great first impression. My co-packer only dealt with large companies like McDonalds, Kellogg's and other large companies. It was the most important sales presentation I would be making and we have a great relationship.
Many people have good ideas all the time. But some people seem to struggle in taking a good idea and translating it into an actual business. How would you encourage someone to overcome this hurdle?
Start small so that you don't get ahead of your skis. You may be able to produce the product in your home so research Cottage Industry laws in your state. Shared incubators and production kitchens are popping up all over and they offer many great resources to help you get it commercialized.
There are many invention development consultants. Would you recommend that a person with a new idea hire such a consultant, or should they try to strike out on their own?
I certainly would encourage them to consider working with a consultant. The guidance could save a lot of time and money. Having said that, I personally have found that the consultants I have met typically have not successfully grown a brand, sold that brand or that brand is still in the marketplace. Just from my experience the consultant agency was a second entrepreneurial act for them. Sometimes learning on your own makes you better. I was brand new to CPG and I learned food styling, food photography and so much more from industry experts sharing their guidance and knowledge on YouTube. I just did not have the thousands of dollars agencies were charging. I think I did ok.
What are your thoughts about bootstrapping vs looking for venture capital? What is the best way to decide if you should do either one?
I would suggest they bootstrap. Venture capital can come once you prove the concept and market acceptance. But if you launch smart and stay steady you can become bankable fast as well. Many retailers have invoice funding like Kroger. These programs can pay that invoice in as little as two days with a minimal fee.
Can you share thoughts from your experience about how to file a patent, how to source good raw ingredients, how to source a good manufacturer, and how to find a retailer or distributor?
Depending on what stage you are in for ingredients, if small , I would suggest a distributor like Sysco or US Foods as they may commonly stock the items you use to produce your product. Have an understanding that they will have minimum delivery requirements. If you are in a cash and carry stage, Restaurant Depot may be a good option for sourcing ingredients. If you can order directly from the supplier that is much better. I found that for bulk dry, frozen and refrigerated ingredients purchases that public cold storage facilities are a good option. These places allow you to rent a pallet bay position monthly. That cost can vary from $15 dollars to 35 dollars per month typically. This allows for you to have a place to receive products also with a dock and by truck.
Here is the main question of our discussion. What are your "5 Things You Need to Create a Successful Food or Beverage Brand" and why?
Have a

 

WINNING PRODUCT. You know it When enough folks say WOWWWWW!! You can sell this.
Focus on the

 

BUYING CONSUMER (YOUR CUSTOMER)

 

as the main goal and not getting into a retailer. Being on a retailer's shelves is awesome and is a great accomplishment but the main goal is to get your product into the consumers pantry, freezer or refrigerator. Too often folks think that the win is getting on grocery shelves when ultimately what they got was a warehouse space in that grocery retailer.
Make sure your packaging and brand tells the story when they see it. The packaging communicates the brand and what it does.
Think Direct to Consumer first. Get a Digital Mindset and develop basic digital skills to move your brand forward. We live in a digital world. Having a basic understanding of social media, content marketing and creation, copywriting, graphic design, email marketing can really help you get a good start. I learned most of these digital skills with online studying at my own pace. And have an online store that is awesome. I love Shopify because I can find applications on my site. Super important if content is king then

 

DATA IS QUEEN!

 

A Direct to Consumer business provides much needed data that you own.
Relax and celebrate the milestones in the growth of your brand. You will make mistakes but learn from them and it will make you better.
Ok. We are nearly done. Here are our final questions. How have you used your success to make the world a better place?
Through our Booker's Soul Food Starters education fund we use our brand to support Black Education in America. We understand you can uplift people and propel them to great things when they have knowledge.
You are an inspiration to a great many people. If you could inspire a movement that would bring the most amount of good to the most amount of people, what would that be? You never know what your idea can trigger. Follow your passion and dreams.
Why not you? Why not now? There are enough dream killers and haters out there saying don't do it. Don't let them discourage you. I am just an old country boy and I created my success blueprint. Eighteen months later and a million dollars plus in sales I did it in the middle of a storm called Covid!
Thank you for these fantastic insights. We greatly appreciate the time you spent on this. Collection 2019 Sale 70% Off Title for image