FROM BEACH TO BBQ: CHAMPAGNE LIVING TIPS FOR SUMMER FUN & FASHION
Whoo hoo! The fireworks have started! Summer is here, and it's time to soak up the sun and embrace the carefree spirit of the season! With longer days and warmer temperatures, there's no better time to indulge in the delights of summer fun, fashion, and delicious treats. Whether you're planning a beach getaway, or backyard barbecue, or simply looking for ways to make the most of the season, we've got you covered.
We'll explore an exciting array of products that will elevate your summer experience. From trendy fashion must-haves to refreshing beverages and mouthwatering treats, get ready to discover the essentials that will make this summer one to remember. So grab your sunglasses, put on your favorite summer playlist, and let's dive into the world of sun-soaked adventures and delightful indulgences!
SPORT + SUNDRESS SEASON
Wearing a skort is my JAM. I love the finished skirt look with the comfort of shorts underneath it all. Just pull it on, throw on a tee and GO. This sustainably produced workout skort features a high-waisted cut and built-in lightweight shorts for ultimate functionality and a buttery soft fabric for ultimate comfort. Available in sizes 2XS-4XL.
Available for purchase at

 

Shop Vitality
At publish date it is currently on sale for $41!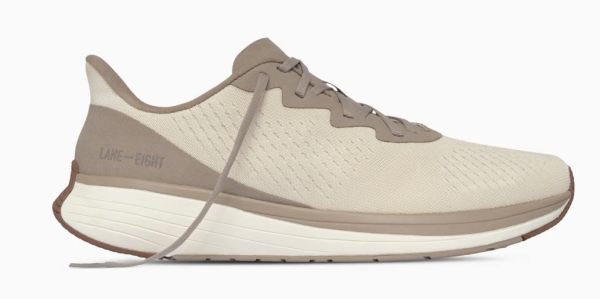 Just in time for Summer travel, LANE EIGHT is introducing a brand new sneaker style to their sustainable range. Meet the most versatile running shoe: the Relay Trainer. What makes it unique? A cushioned yet stable midsole that combines a firmer outer rim made of Sugarcane-based foam with a softer Algae-based foam center to give you the best of both worlds. Cushion for when you're going the distance and stability for when you're making moves in the gym.
Made for your high-impact workouts without sacrificing style, comfort, or sustainability LANEEIGHT is the world's best workout shoes – for you, and the planet. Using a meticulous curation of eco-conscious materials, technologies, and processes, the brand has committed to 100% sustainability, working toward a net-zero carbon footprint while out-performing the industry's top performers and providing unmatched athletic performance, dynamic versatility, and coveted style with a minimized environmental impact. It is currently available in four colorways Shadow, Breeze, Latte, and Keylime.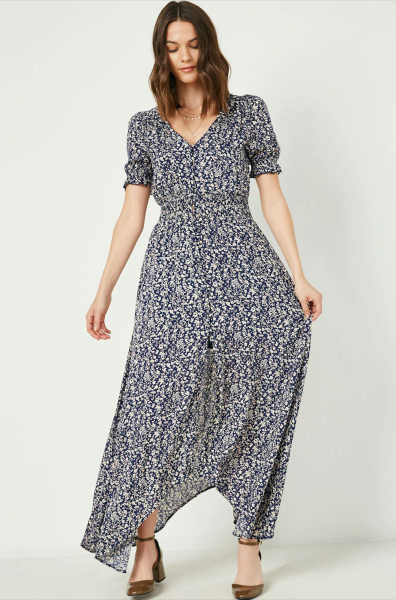 The Hayden LA Floral Ruched Waist Maxi Dress features breathable floral fabric, functional button-up closure, and a smocked stretch waistline. Available in sizes S to 3XL.
Check out their full line of gorgeous sun dresses, on-the-go outfits, and other great boho-feminine work-to-weekend apparel. You'll find their dresses easy to live in and oh-so-flattering
Head to

 

Hayden LA

 

to buy your new favorite wardrobe pieces.
THAT SUNKISSED GLOW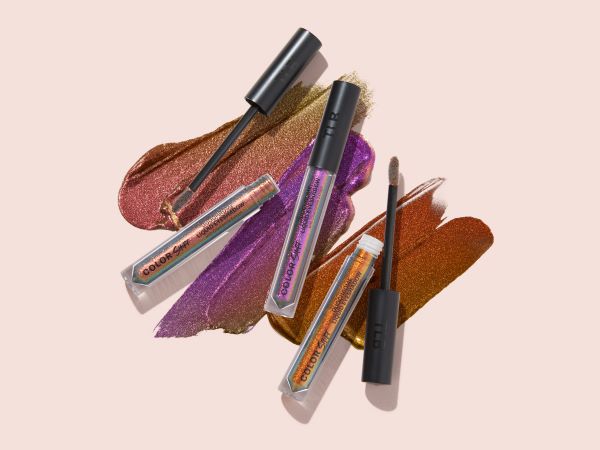 Available in three vibrant colors, this duochrome liquid eyeshadow has a light-shifting color effect, with a lightweight feel and intense payoff. Creating a light-reflecting metallic finish, this liquid eyeshadow uniquely shows two colors within the same application. Against a great summertime tan, these eyeshadows will make your eyes POP!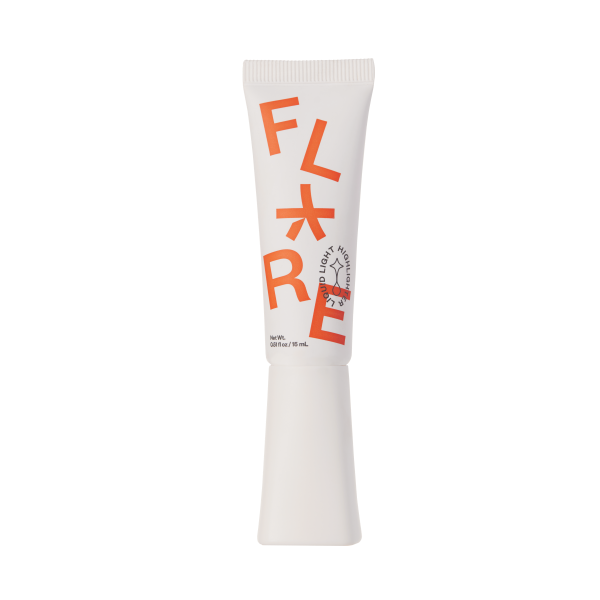 Flare Liquid Highlighter –  This long-lasting liquid highlighter illuminates the corners of your eyes, lips, and cheekbones for a flame-like flare, creating a glow even the sun would envy. This shimmering, serum-y highlight is ideal for brow bones, cheekbones, décolletage or cupids bow. Additionally, the Flare Liquid Highlighter can also be used as a luminous wash of blush or eyeshadow. The Flare Liquid Highlighter is available in two glimmering shades, Starburst and Limelight.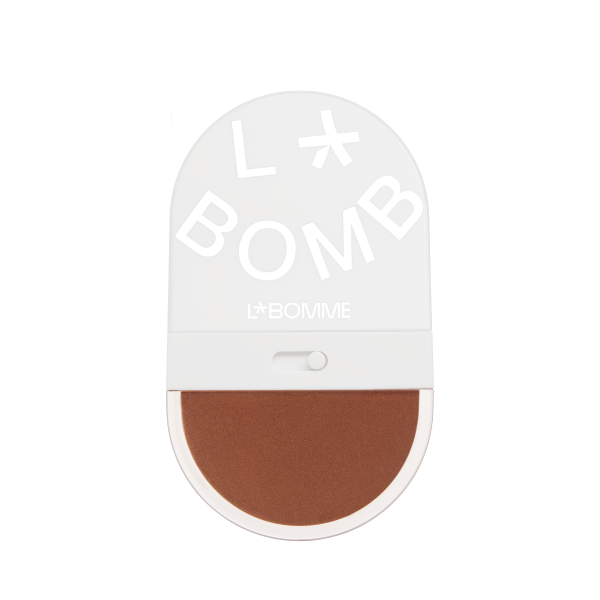 L*Bomb Highlighter – Rethink loose powder packaging with the L*bomb Highlighter, a light-catching pearl powder highlighter that captures all the attention in the room. Designed to dispense the precise amount of powder and allow you to easily sift the excess back into the jar. Its mess-free pan prevents product waste and unwanted spills in your make-up bag. This highlighter is available in shades of Honey Quartz, Gold Nugget, and Pinky Promise. Created by beauty enthusiast and Mom of three Brandie LaBomme, LaBomme Beauty is reimaging classic colors.
Pick these up and a LOT MORE great cosmetics at

 

LaBomme.co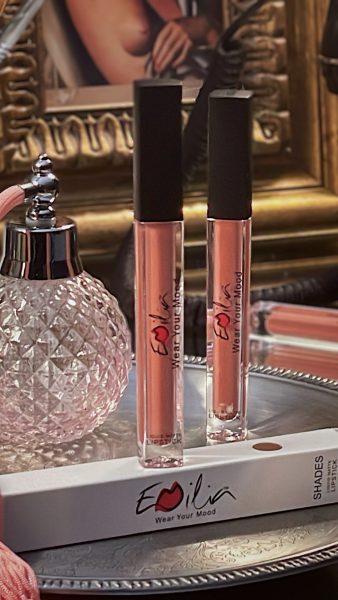 Founded in 2016 by Dominican Republic-born Emília Vásquez, the ever-growing lip brand EMILIA SHADES offers several different colors and hues of liquid lipsticks, all of which are named not by color but by Emilia's desire for her products to represent and encourage sexuality, sensuality, freedom, and confidence among all women.
From the deep cherry red of For Your Lovers Only to the more subtle earthy nude tones of Mystic and Amor Escondido, there is a shade for every mood, every vibe, and every woman. EMILIA SHADES believes that something seemingly simple or small like a swipe of a lipgloss or a kiss of a tube of lipstick can represent so much more than just a display of makeup; it's a display of your mood, your self-expression, and your power.
thread Beauty is a clean, vegan, cruelty-free beauty brand, to cater to the beauty industry's leading consumer, Gen-Z (but frankly, ANYONE can use it).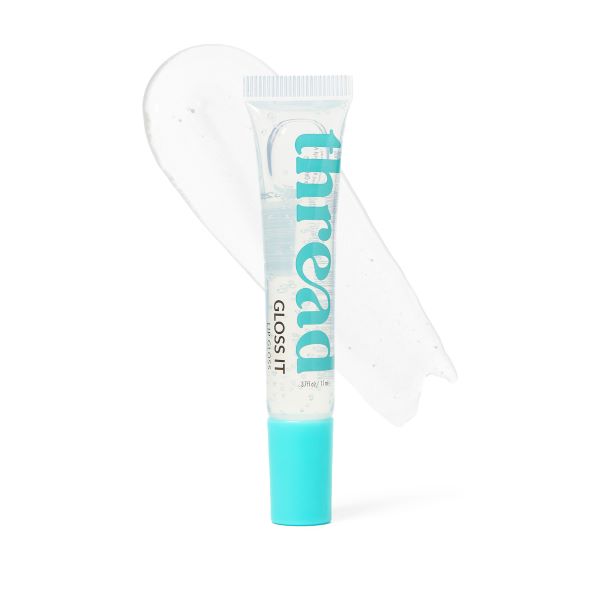 gloss it' lip gloss – The 'gloss it' lip gloss delivers a high-shine and light-reflecting, sheen with an added tint of color across seven shades! Each 'gloss it' shade is packed with lip-nourishing ingredients such as shea butter, hydrating mango seed oil, and Vitamin E oil for a non-sticky finish. The retro squeeze tube features a slanted tip that helps seamlessly layer gloss to achieve maximum shine. Each shade is infused with its very own signature scent and fragrance including chocolate, watermelon, buttercream, and caramel flavors. Available in seven shades.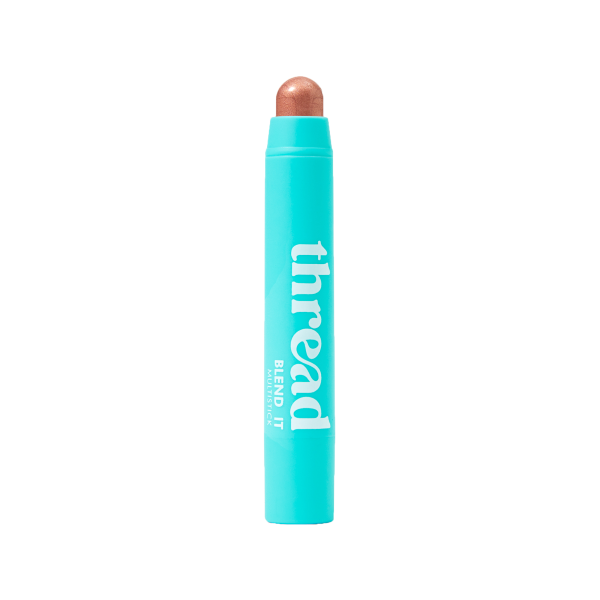 'blend it' multistick – If doing the most was a beauty product… this would be it! Introducing the 'blend it' multi-stick, a seamless, buildable, multi-functional cream stick that can be used to apply a wash of color to eyes, cheeks, and/or face – effortlessly. Available in 14 shades.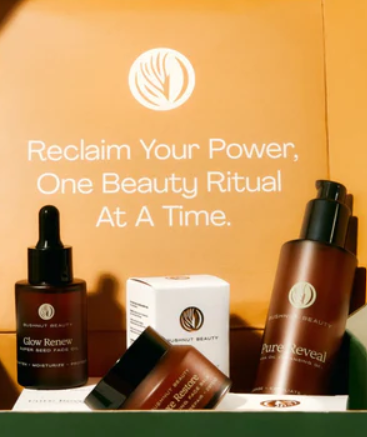 The Bushnut Beauty ritual includes the entire eco-luxury skincare collection including"
Pure Reveal AHA Oil Cleansing Gel
Luxe Restore Illuminating Face Balm
Glow Renew Super Seed Face Oil.
Eco-conscious, results-driven skincare that creates an escape from a busy lifestyle to reconnect with mind, body, and soul. Their exclusive formulas contain hand-harvested, fair trade, and ethically sourced ingredients from independent women coops in indigenous communities and local farms.
ON THE RUN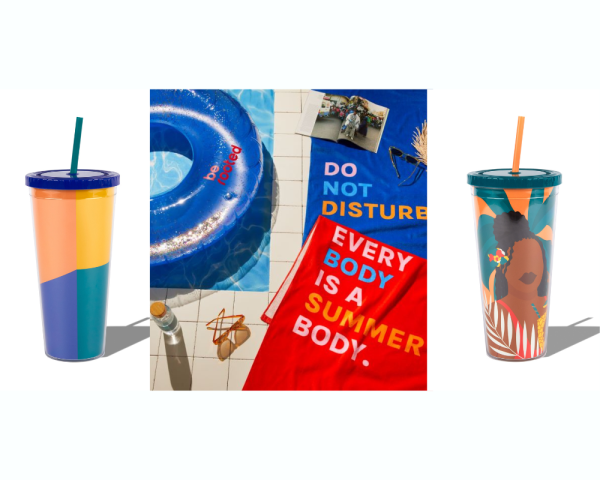 This summer vibes bundle is perfect for the beach or pool! This bundle comes with two large beach towels and one pool floaty.  Remind yourself that is time to "Do Not Disturb" and "Every Body is a Summer Body" and bring the vibes to the pool with this ultra-luxe confetti floaty.
Dehydration is never a good look. Don't even think of running out into the hot summer sun without one of these pretty tumblers. Keep them within eyeshot and the colorful designs will remind you to take regular hydration breaks and get your sip on. They come with a decorative straw, so you can say goodbye to single-use plastic straws for good.
Inspire High Impact Crop-This great sports crop style combines the fit of the much loved Inspire sports bra with the look of a sports crop top – what more could you want?! The underwires mean that it offers a rounded shape and a separated look – no mono-boob here, and the cups are made from a double layer of fabric with all the seams trapped inside, so it feels smooth next to your skin. It can be worn as a supportive sports bra under your favorite workout outfit or paired with sports leggings for that crop top look! Even the straps and hook and eyes are padded!
Motion Cycling Short – You'll feel coordinated and supported in these seamless cycling shorts, whether you're working out, lounging, or wearing from day to day! The lightweight stretchy fabric gives a flexible fit for ultimate comfort that is suitable for all kinds of exercise including the gym, running, and yoga (or even lounging!).
Bravissimo also makes some of the BEST bras around. Check their site and sign up for an in store or VIRTUAL bra fitting (I did) at

 

Bravissimo.com
MyBevi makes customizable water bottles that make carrying dad's phone, keys, and a tumbler easy on the go. You can also now engrave MyBevi bottles with any customization you'd like! With 800+ positive Amazon reviews, the collection offers stainless steel tumblers for everyone that are made to endure all weather conditions and activities. MyBevi tumblers will keep your drink cold or hot for 24+ hours.
So grab your coffee, put it in a MyBevi and head to the beach for the day. Mid-day switch to an iced cold lemonade that will stay refreshing as you get your tan perfected.

No, seriously. It's the must-have item of the season and the name says it all – The Block Brush is a refillable sunblock brush that provides you the freedom of always having sunblock handy without having to carry a full bottle around. The bright idea originated from Australian mompreneur, Lisa, who designed the no mess, no fuss skin protectant applicator that features a small, sleek bottle design that can fit nicely in even the smallest of bags.
This innovative sunblock brush is perfect for applying sunblock to both children (toddlers and babies) and adults; the unique brush head is ergonomically designed to evenly disperse the sunblock to those smaller and more delicate areas such as around the eyes and lips while still big enough for even coverage over the entire face, ears, and neck, and all while keeping your hands sunblock free! Great for on-the-go to the beach, park, travel, or even just everyday use at home. Just fill the internal canister with the liquid sunblock of your choice and away you go! In addition to sunscreen, The Block Brush is also great when applying a tinted moisturizer, foundation, concealer, or other facial beauty products. The Block Brush can be a real lifesaver, so make sun protection a priority for yourself and your loved ones, wherever you are!
Order yours from

 

The Block Brush

 

NOW, and make sure that you have it ready for any time you're outdoors.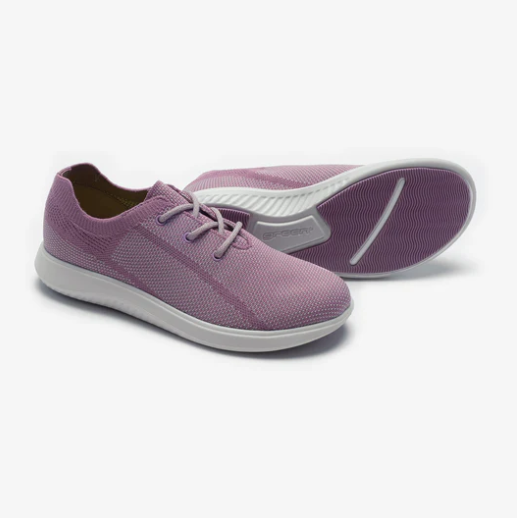 These super-comfy, versatile, indoor-outdoor shoes are easy to slide onto your feet to run the kids to school or slip into an overnight bag for a summer adventure. The soft, knit uppers are made with recycled plastic bottles, recycled moisture-wicking lining, and a shock-absorbing footbed produced with compostable, sugarcane-based EVA.
Not only are greenReActives comfortable and supportive, but also they don't compromise style, with all sorts of clogs, lace-ups, and ankle boots that convert to clogs in flyknit, suede, berber and more.
Carefully designed to blend comfort and sustainability, greenReActives eco-friendly indoor-outdoor footwear is uniquely part shoe and part slipper. Created by Green Market — a Massachusetts-based company with more than 50 years of experience making casual shoes and slippers — greenReActives are made for women who are going out, staying in, and doing a bit of both. Made with materials that matter, each pair represents plastic bottles that won't land in a landfill or the ocean.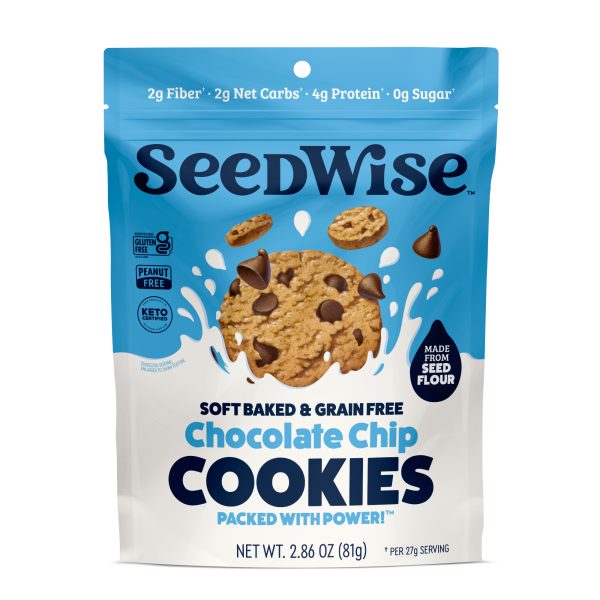 SeedWise cookies are made with seed flour, baked in-house, and are the perfect addition to fulfill that sweet tooth craving. SeedWise's soft-backed cookies are free from the top 9 food allergens, are low in sugar, are soft-baked, and snackably delicious. These delicious cookies tick all the boxes and taste so good that consumers won't be missing a thing. With only 1g of net carbs and 4g of protein, anyone can go for seconds without having a second thought. SeedWise is a certified B-Corp, focused on doing good; that's why SeedWise is gluten-free, grain-free, vegan, keto-certified, and non-GMO.
Seedwise cookies will be available on

 

Amazon.com, Wegmans, Lowes, HEB, Sprouts, and other major retailers.
THE SUMMER OF SIZZLE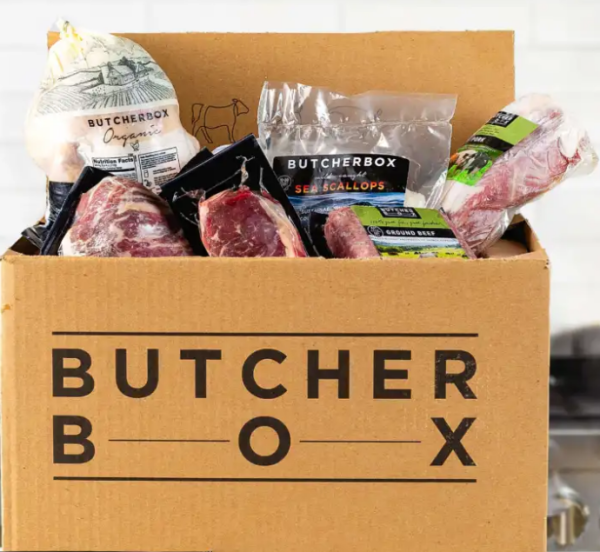 ButcherBox™ is the secret to cooking with confidence. Quality is the most important ingredient in any recipe, and that's why I trust ButcherBox. They deliver 100% grass-fed beef, free-range organic chicken, pork-raised crate-free, and wild-caught seafood directly to your doorstep, so you can focus on cooking amazing meals—not searching for meat that meets your standards.
Order yours today at

 

Butcher Box

 

and fire up that grill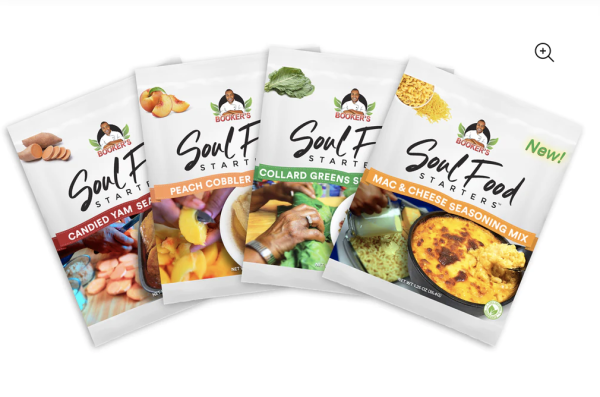 Claude and Crystal Booker, founders of Soul Food Starters, are on a mission to empower families with the tools to recreate exceptional soul food at home. In collaboration with Kroger, they reveal the secret to an unforgettable soul food experience by showcasing the finest ingredients available. The collaboration between Soul Food Starters and Kroger allows families to effortlessly bring the soulful essence of soul food to their own kitchens. By offering convenient starter kits that take the guesswork out of creating classic soul food sides such as mac and cheese, collard greens, candied yams, and peach cobbler, Soul Food Starters empowers home cooks to embark on a culinary adventure without compromising on flavor or authenticity.
Soul Food Starters and Kroger are committed to preserving the cultural heritage of soul food and providing families with the tools to create memorable meals that celebrate tradition and togetherness. By partnering with Kroger, Soul Food Starters ensures that home cooks have access to the best ingredients, enabling them to achieve soul food perfection in the comfort of their own homes.
To explore the world of 

soul

 

food

 with 

Soul

 

Food

 Starters and discover the finest ingredients available at Kroger, visit

 

SoulFoodStarters.com

 

and make your way to your local Kroger store today.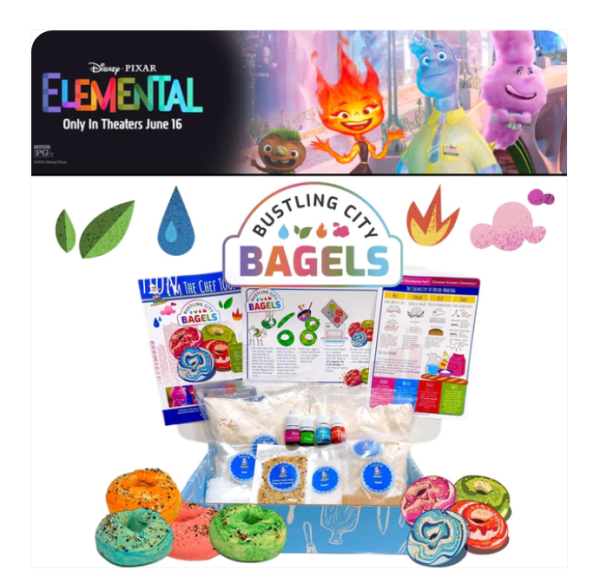 Get the entire family involved in cooking with your kids' favorite I'm the Chef Too cooking kits. Whip up bagels in celebration of your favorite Disney and Pixar Elemental characters, Wade, Ember, Clod, and Gale! Learn the science of how bread is made and experience the elements firsthand as you mix, knead, and roll your colored bagels into a delicious treat! Don't miss out on the opportunity to celebrate the release of Disney and Pixar's Elemental with this limited-edition kit!
What a fun way for the kids to learn how to cook.
This and other great baking kits are available individually and by subscription at

 

ImTheChefToo.com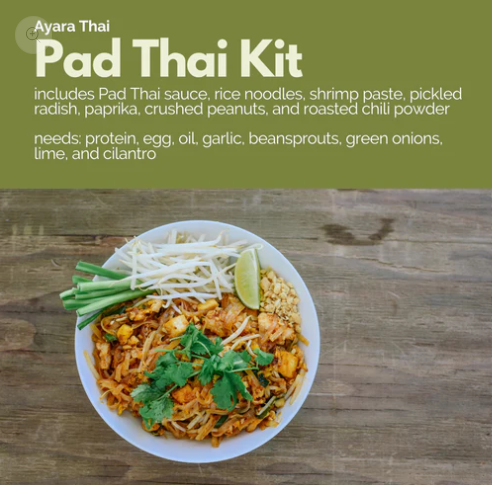 Ayara Thai brings its Michelin Bib Gourmand recipes and flavors to any home in the contiguous U.S. with Ayara Products! Their Cooking Kits come with easy-to-follow recipes and include the highest quality ingredients to cook delicious and authentic Thai meals at home. Adhering to our dedication to sustainable dining, our versatile dips, dressing, and marinades are preservative-free and made with the freshest ingredients.
And don't miss out on the award-winning Peanut Sauce: Dreamy peanut butter and salty-sweet hoisin sauce get an invigorating kick from our aromatic garlic, zesty onion, and cane sugar. A versatile, vegetarian-friendly sauce to be used as a marinade, dressing, or even a dip for everything from our fresh spring rolls to your own veggie sticks. It's even a delicious sandwich spread!
Even someone who is all thumbs in the kitchen (like me) can make a delicious Thai meal with Ayara Thai kits and sauces
TIME TO GET THIS PARTY STARTED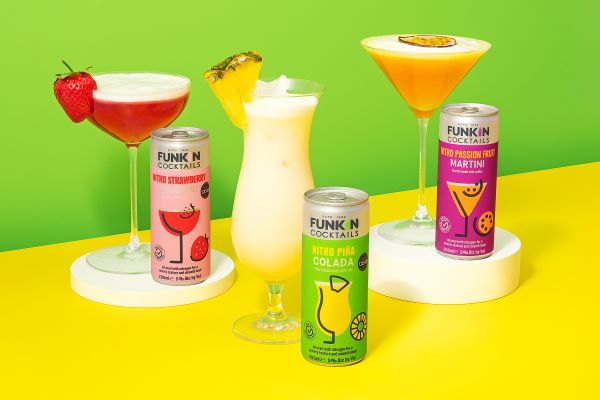 Canned libations just got an upgrade. FUNKIN COCKTAILS, the leading brand of ready-to-drink cocktails in the UK, is bringing their innovative nitro-infused, real fruit drinks to Florida, with other states soon to follow, and as a Floridian I am STOKED. I can't wait for the other 49 states to enjoy drinks the way that I do now.
In three delightful and award-winning flavors—Piña Colada, Strawberry Daiquiri, and Passion Fruit Martini—each no-mixing-needed beverage is ready for the beach, the pool, the boat, or the patio (that's poolside for me). With a unique nitro-infusion system that's activated upon opening, these cocktails are unlike anything you've tried in a can — I promise!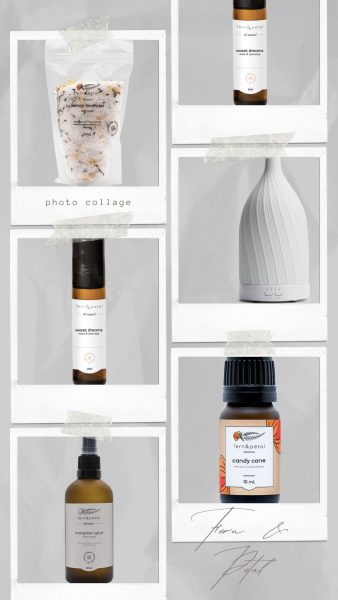 Fern & Petal was born out of the difficult search to find high-quality, all-natural products that were made locally. They proudly bottle essential oils locally in Vancouver, BC. All of their products contain all-natural ingredients, meaning there are no dyes, no fragrances and no synthetic preservatives. With every purchase, Fern & Petal donates $1 to plant a tree in Canada. Working together, Fern & Petal wants to help improve the world for everyone.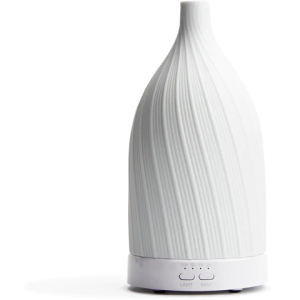 White Ceramic Diffuser – With a sleek design, the White Ceramic Ultrasonic Diffuser is not only a beautiful addition to your home, but it also offers amazing benefits as well. Using 100% pure essential oils, you can both purify and humidify the air around you and create a soothing and refreshing atmosphere in any space.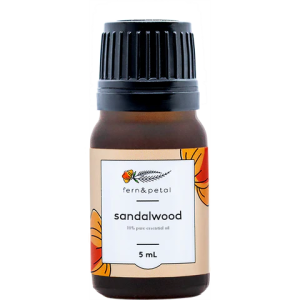 Sandalwood Essential Oil– Feel safely rooted with the soft woody aroma of Sandalwood. This base-note oil helps reduce tension and anxiety by regulating your limbic system, the brain's emotional center and memory bank.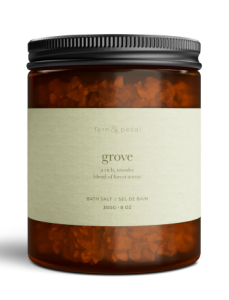 Grove Bath Salt – Slip away into the comforting embrace of a secret grove, hidden deep in a lush temperate rainforest. Made with deep woodsy aromas of Spruce, Pine and with undertones of Juniper berry. Grove helps you release the day's stress and transition into a state of deep relaxation.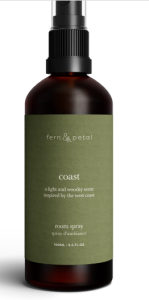 Coast Room Spray – Embrace a fresh mountainside breeze mixed with the light, woodsy aroma from the old growth trees spanning the shoreline horizon. Coast captures the natural beauty of the Pacific West Coast with its unique blend of Cypress, fresh Bergamot and sustainably harvested Pacific Cedarwood.
You'll find these and so much more to make your life smell great at Fern & Petal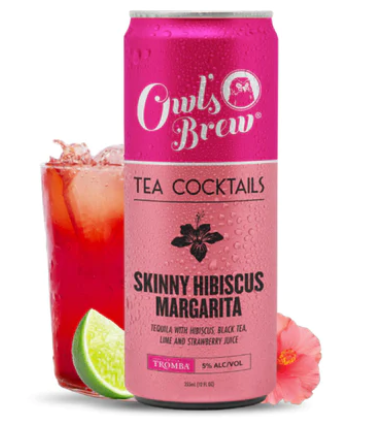 The Skinny Hibiscus Margarita is made from freshly-brewed black tea & hibiscus, strawberry, and lime juice, and uses Tequila Tromba blanco tequila. No more fussing, just grab a can and pour over ice and you've got the perfect lower-calorie option of your favorite summer cocktail. Lower calorie? That's right this SKINNY margarita has 5% ALC/VOL and only 110 calories per can.
In the mood for a vodka cocktail with TEA? Check out Owl's Brew Real Tea & Vodka Tea Cocktails including Green Tea & Passionfruit, Blackberry Half & Half, and Black Tea & Pomegranate flavors.
Available online at

 

Owl's Brew

 

Beverages as well as from Drizly and more in certain states.

One of the newest vodkas to hit the market, Tina's Vodka has been quickly gathering fans. A vodka with a big commitment to regenerative agriculture and taste, it's hard not to want it on your bar cart. Started in 2021, Tina's is GMO-free, sustainably made, female-owned, American-made, and contains zero additives. Additionally, the proprietary filtration system used gives it a natural sweetness and superior taste to the other top-shelf liquors.
Have a fun summer and stay safe.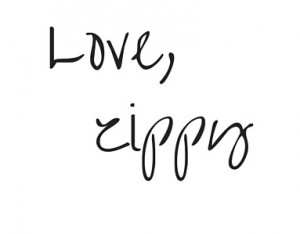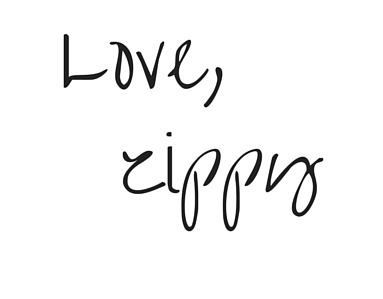 Collection 2019 Sale 70% Off Title for image