More July 2023 "Paltrobox" Discoveries & Holiday Gift Ideas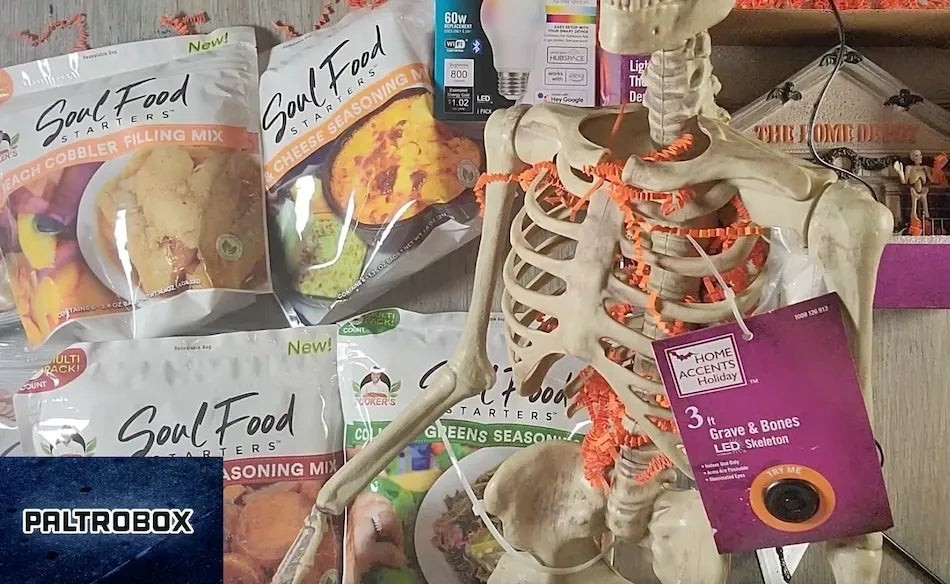 Everyone needs to stay nourished and healthy, and there is no shortage of exciting food, drink, health or lifestyle offerings to order online. So if you are searching for new food, drink, health and/or lifestyle-related discoveries, you have come to the right place. Here are a round-up of items you can order online, as received in July 2023, with direct product-related links included below and videos showing what these items look like when unboxed in live-time on my dinner table by Melissa Paltrowitz. Previous Paltrobox roundup videos can be viewed YouTube, Instagram and TikTok.
Paltrobox #309: The Home Depot & Booker's Soul Food Starters
Halloween 2023 from The Home Depot
In recent years, The Home Depot's unique designs, innovative manufacturing techniques and dedication to value have transformed how customers shop and decorate for Halloween. The quality and affordability of its props make it easy for customers to add to their collections year after year. To meet extraordinarily high demand, and because who doesn't love a good scare, The Home Depot is officially kicking off Halloween in July. Enthusiasts are decorating earlier than ever before, and we're here to deliver new thrills and excitement with the latest must-have pieces, all available exclusively at The Home Depot. Above is a look at several of the items for sale at The Home Depot, as shipped to Paltrobox HQ. Products will arrive in stores at the end of August and are available online now. 
Arguably nobody knows good soul food like Chef Claude Booker – well, except some of our grandmothers. But in today's world, not everyone has the time to put love into a good homecooked meal. You know, the kind of comforting soul food that gets each member of the family excited to sit down for supper. That is why husband-and-wife team Claude and Crystal Booker decided to transform their cherished family recipes into pantry-ready starter kits that make it easy to bring together the heart and soul of every family through food. Booker's Soul Food Starters are preportioned spice mixtures that take the guesswork out of how much salt, sugar and time to put into classic soul food sides: mac and cheese, collard greens, candied yams and peach cobbler filling. Customers can keep their favorite mixtures on hand and just shop for fresh goods (collards, peaches, yams and cheese) when they're ready for a memorable meal. 
Great tastes and easy poep aside, through the Booker's Soul Food Education Fund, every time a starter packet is purchased, it helps support education and programs for Black youth. You can find Booker's Soul Food Starters at your favorite local grocers, including Winn Dixie, Kroger, Stop & Shop, Food Lion and more. The meal starters are also available online.
Paltrobox #310: Peak State Coffee & Formulate
Peak State Coffee is a leading provider of premium organic coffee products, and the brand recently announced the limited release of "Coffee With Benefits" "eco can." The company infuses functional mushrooms into Certified Organic whole coffee beans through a patented process, adding health benefits to people's daily routines without sacrificing any of the flavor and taste of high-quality organic coffee.
As part of the company's commitment to environmental stewardship, its line of adaptogenic mushroom-infused organic coffee is now available in refillable and recyclable aluminum cans. This benefits the consumer with its ease of use and functionality of keeping coffee fresh.
Formulate is a custom hair care brand that offers a hair quiz and your own personal chemist to help deliver the dream hair you have always wanted. Formulate is aiming to usher in the "chemist-to-consumer" movement, putting an end to the guessing, oversold trend-driven gimmicks, and product waste alike. The video embedded above shows the brand's 14 oz. Shampoo, Conditioner and 1.7 oz. Scalp Serum. Notably, Formulate individually cold-mixes every bottle without harsh preservatives, ensuring its products to be sulfate-free and paraben-free with no associated animal testing.
Disclaimer: None of these items were paid placements. All items were sent to the Paltrobox in exchange for coverage consideration. Collection 2019 Sale 70% Off Title for image